A Collective Exploration of Our History: An Introduction
When one walks through the gates of Brown University, it is hard not to see this campus as a static, enduring, constant place. Much like the physical texts in our libraries, it is hard to imagine legacy institutions as anything but fixed in time — they seem immutable. However, nothing could be further from the truth. Universities at their best are dynamic places of learning and discovery and community, places where people come together to explore ideas and create change. When welcoming new members to our institutions, therefore, it is essential to ask what drives change, what brings people together, and what enables transformation.
Two decades ago, President Ruth J. Simmons, in one of her first public speeches at Brown, welcomed the Class of 2005 during Convocation with this simple, truthful message:
"Some of the founders and benefactors of our great University were holders or traders of slaves….We must not hide from that fact, for it is a part of our past, and in speaking its truth, we not only let the light in, but we give it air, making it shine more brightly."1
As Brown's current Dean of the College and as an alumnus who recalls the University before the arrival of President Simmons, I cannot overstate how much the Report of the Brown University Steering Committee on Slavery and Justice that she commissioned has transformed our community — or the air, light, and space it has created.
The alumni reflections that have been gathered for this revised and expanded edition of the Slavery and Justice Report showcase portions of that space, and each essay illustrates how the collective exploration of our history can be an act of both personal learning and public transformation. The authors span a period of more than half a century at Brown. Spencer Crew '71 is an eminent scholar and public historian who was part of the 1968 Black Student Walkout and served on the committee that selected President Simmons, while Wilfred Codrington III '05 and Sean Siperstein '05 are alumni whose undergraduate research projects were among the first supported by the Slavery and Justice Committee. Sophie Kupetz '19.5 worked in the Center for the Study of Slavery and Justice as an undergraduate student and helped develop some of its innovative programming; and for Chandra Marshall '20 A.M., the Report was influential as she pursued a master's degree in Brown's Public Humanities program and as she continues her work in cultural heritage today. All of these alumni have their own personal relationships with the Slavery and Justice Report and its meaning.
In March of 2020, Brown's First Readings selection committee chose to assign the Slavery and Justice Report to incoming first-year students as part of their orientation. The First Readings program is designed to serve as an introduction to our shared learning community. It is an opportunity for students to come together as a class — and for faculty and staff to join with students as a campus community — to explore one text in detail, so that we may all have a common touchstone from which to begin and return throughout our students' studies. The creation of a digital "teaching edition" of the Slavery and Justice Report now gives generations of Brown students an opportunity to form their own relationships with Brown's complicated history.
As I shared with the first cohort of incoming students to engage with the Report in its enhanced digital format, reading the Slavery and Justice Report offers an opportunity to revisit histories that some may have thought were settled. The painful truth is that the narratives most commonly shared about our nation's history often overlook the pervasive, persistent, and insidious nature of slavery and racial injustice. As a community of students and scholars, it is our obligation to understand and learn from this history and its connection to our shared present, so that we may reflect on the meanings of accountability, justice, and repair in order to transform our collective future.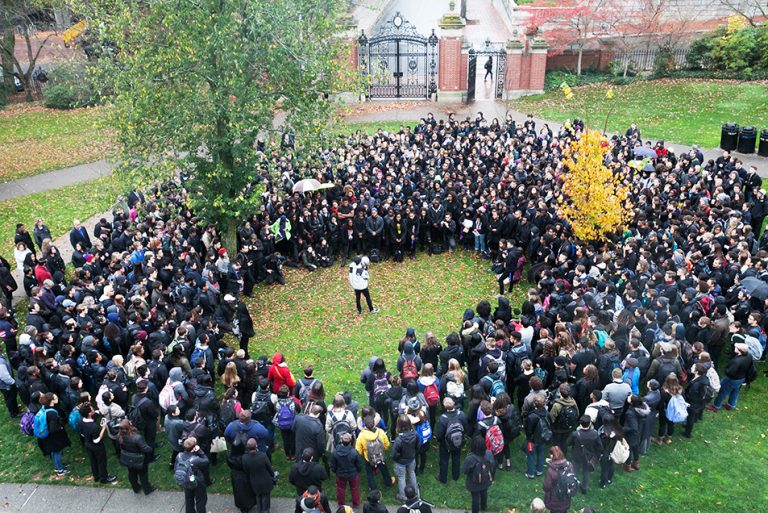 In 2015, several hundred students, faculty, and administrators at Brown University wore black and participated in a student-led "Blackout" protest followed by a teach-in in solidarity with Black students at the University of Missouri (Mizzou) amid reports of hate speech and acts of racism on that campus. Brown students focused their remarks on the racial climate on Brown's campus, inspired by the organizing efforts at the University of Missouri. Amid a wave of student protests, President Christina H. Paxson and Provost Richard M. Locke expressed Brown's commitment to diversity initiatives and support for students of color.

Blackout at Brown and teach-in in solidarity with the University of Missouri, 2015. Photograph by Danielle Perelman/Brown Daily Herald.
The work of the Slavery and Justice Committee and their Report lives on in its successors at Brown, including the Center for the Study of Slavery and Justice and the many scholars who today carry on the radical act of accountability that began our necessary confrontation with history. This commitment to accountability also lives on in Brown's Diversity and Inclusion Action Plans, developed under the current leadership of President Christina H. Paxson, and in our community's willingness to publicly share where we have fallen short of our ideals. I hope that this revised edition of the Report, commissioned by President Paxson, and the following collection of alumni essays inspire you, as the words of President Simmons have inspired so many over the past twenty years:
"But I am not here to alter what cannot be changed….I am here to affirm what the University has become today, and what it aspires to be. There is dignity in who we are and the path we have chosen today. Let us be judged by that."2
, who earned his bachelor's degree as a member of Brown's Class of 2001, is Dean of the College and Professor of Engineering and Physics at Brown University.
https://doi.org/10.26300/bdp.sj.zia